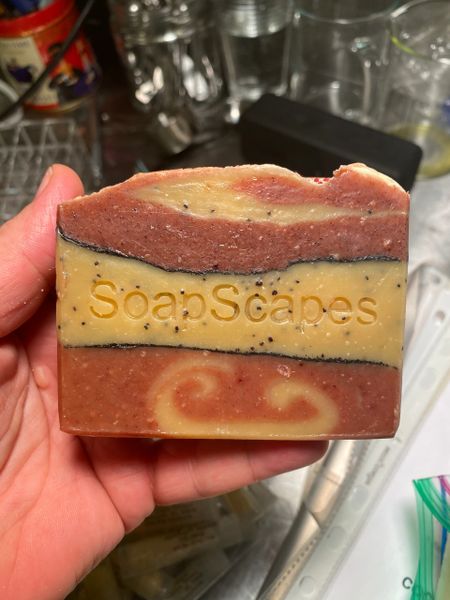 Made with skin loving oils and loads of shea  butter. Two tone colouring comes from French red clay (really good for your skin) and Bordeaux mica. What are micas? Naturally occurring minerals, however they are not being mined for cosmetics any more as they are often mixed with heavy metals. Instead of refining them, they are now made in the labs, nature identical, but man made. This soap also has some cranberry seeds (those little black spots), as well as cranberry fibre, and is scented with cranberry spice type of fragrance (phthalates free).

INGREDIENTS:
Olea Europaea (Olive) Oil, Cocos Nucifera (Coconut) Oil, Brassica Campestris (Rapeseed) Seed Oil, Vitis Vinifera (Grapeseed) Oil, Butyrospermum Parkii (Shea) Butter, Ricinus Communis (Castor) Oil, Water, Sodium Hydroxide, Fragrance, Rubia Tinctorum (Madder Root), Theobroma Cacao (Cocoa) Powder, 
Mica, Peppercorn
Our soaps are hand made in small batches and although the ingredients and quality are always the same, the look of product might vary from a batch to a batch. 
Please note that a listed weight is a minimal size you would receive, but the bar could be heavier.