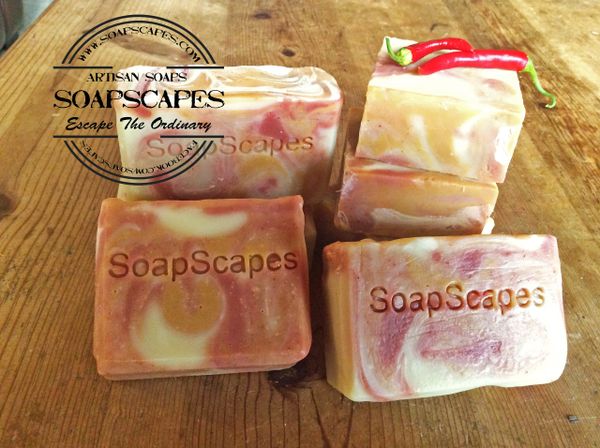 A wonderful, sassy, saucy combination of scents in phthalate free fragrance oil - Valencia Orange, Sparkling Bergamot, Tangerine Zest, Tart Cassis, Orange Juice, Neroli, Ground Pepper, Fiery Chili Pepper, and Sheer Musk. Coloured with madder root, French red clay and paprika.  Moisturizing oils will kiss your body with gentlest of kisses and wake you up.

INGREDIENTS: Olea Europaea (Olive) Oil, Elaeis Guineesis (Palm) Oil- Sustainable, Cocos Nucifera (Coconut) Oil, Theobroma Cacao (Cocoa) Seed Butter, Ricinus Communis (Castor) Oil, Water, Sodium Hydroxide, Rubia Tinctorum (Madder Root), Capsicum Annum (Paprika) Powder, Montmorillonite  (French Red Clay), Fragrance.
Net weight:
 132g / 4.65oz 
Our soaps are hand made in small batches and although the ingredients and quality are always the same, the look of product might vary from a batch to a batch. 
Please note that a listed weight is a minimal size you would receive, but the bar could be heavier.