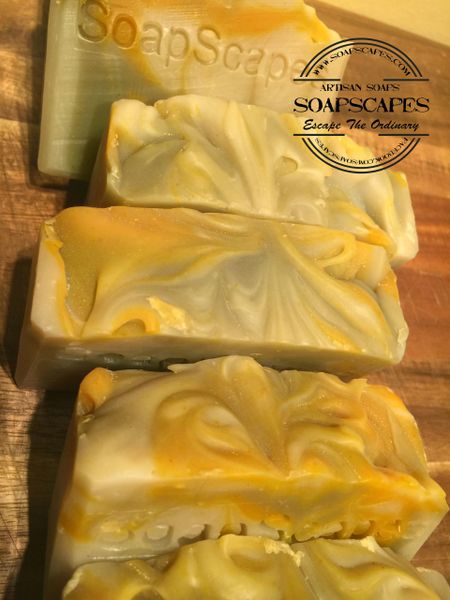 A beautiful mix of olive oil, coconut oil, sustainable palm oil, Shea butter and castor oil, coloured with spinach powder and turmeric. Scented with an amazing phthalate free fragrance oil - notes of pineapple, banana and orange, mixed with passion fruit and mango.  Yummy! 
INGREDIENTS: Olea Europaea (Olive) Oil, Cocos Nucifera (Coconut) Oil, Elaeis Guineensis (Palm) Oil - Sustainable, Butyrospermum Parkii (Shea) Butter, Water, Sodium Hydroxide, Ricinus Communis (Castor) Seed Oil, Spinach Cleracea (Spinach) Powder, Curcuma Longa (Turmeric) Root Powder, Fragrance. No SLS, parabens, phthalates or detergents.
NET WEIGHT: 129g/4.55oz
Our soaps are hand made in small batches and although the ingredients and quality are always the same, the look of product might vary from a batch to a batch.  Please note that a listed weight is a minimal size you would receive, but the bar could be heavier.