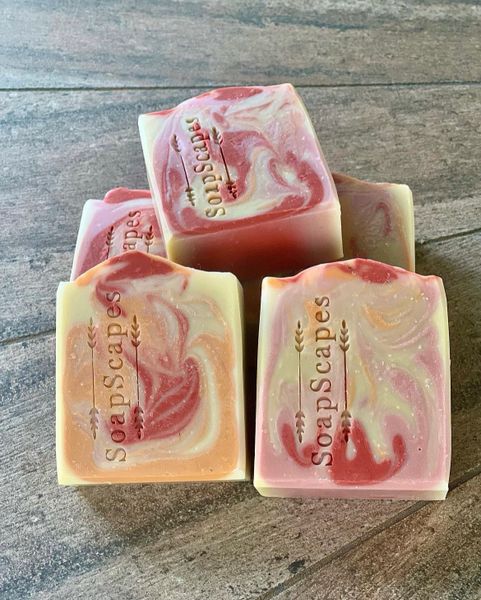 Made with hemp oil, olive oil, a high percentage of shea butter, silk amino acids and coconut milk, this is a beautiful bar of soap. Scented in a fabulous phthalates free fragrance oil with notes of mandarin orange, bergamot, tangerine, a touch of peaches and berries for a good measure, sitting in a base of gentle white musk. Mouth watering. 
NET WEIGHT 170g or more. 
INGREDIENTS:
 Olea Europaea (Olive) Oil, Cocos Nucifera (Coconut) Oil, Butyrospermum Parkii (Shea) Butter, Cannabis Sativa (Hemp) Seed Oil, Ricinus Communis Seed Oil, Water, Sodium Hydroxide, Cocos Nucifera (Coconut) Fruit Extract, Silk Amino Acids, Mica, Fragrance
---
Our soaps are made in small batches and the look may vary slightly from what you see in the picture. We try our best to make them look the same, but, soap is its own master.  It is, however, the same awesome bar of soap.