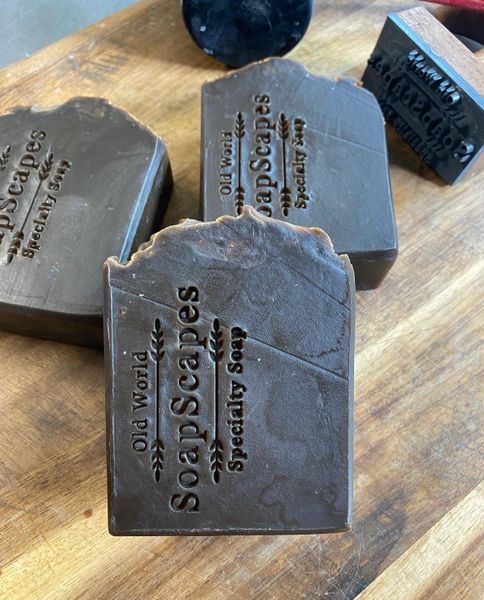 Yes, it is really made with pine tar. Pine tar has been used for very long time as a remedy for all sorts of skin issues. It is also used on horses' hooves to help with cracking and other problems. It smells like camp fire. I left this soap unscented as it is meant for those with sensitive skin or those who need some extra scalp nourishing. It still has all the goodness of shea butter, cocoa butter and other oils. Do yourselves a favour and look up pine tar if you didn't know about it.
NET WEIGHT 170g or more. 
Elaeis Guineensis (Palm) Oil, Aqua (Water), Cocos Nucifera (Coconut) Oil, Sodium Hydroxide (Lye), Pinus Palustris (Pine) Wood Tar, Theobroma    Cacao (Cocoa) Seed Butter, Olea Europaea (Olive) Fruit Oil, Butyrospermum Parkii (Shea) Butter, Ricinus Communis Seed Oil
---
Our soaps are made in small batches and the look may vary slightly from what you see in the picture. We try our best to make them look the same, but, soap is its own master.  It is, however, the same awesome bar of soap.