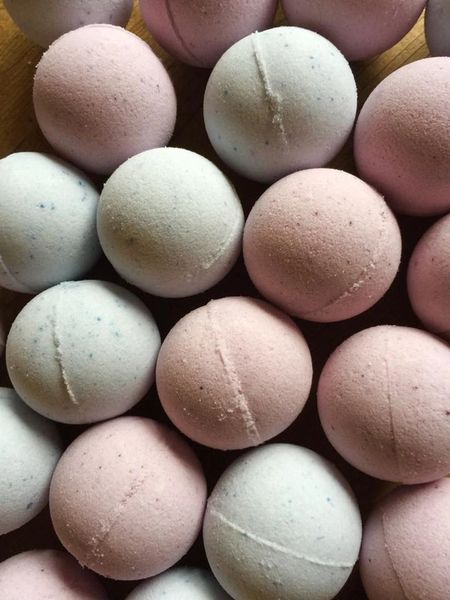 Small version of the regular bomb. 60-75 grams, or around 2.5 oz, they are big enough for a single bath.  Loaded with Avocado Oil, they will leave your skin soft and wonderfully scented. Added bonus - they don't only fizz, they bubble too! Just be careful when leaving your tub, it gets slippery.

INGREDIENTS: Sodium Bicarbonate, Citric Acid, Persea gratissima (Avocado) oil, Potassium Bitartrate, Sodium Lauryl Sulfoacetate, Fragrance, Glycerin Colourant


SWEET ORANGE & CHILI PEPPER: sassy, saucy combination of Valencia Orange, Sparkling Bergamot, Tangerine Zest, Tart Cassis, Orange Juice, Neroli, Ground Pepper, Fiery Chili Pepper, and Sheer Musk
MOJITO: Strong top notes of juicy Lime and Sugar; balanced with Mint leaves and Rum
PINEAPPLE & PAPRIKA: begins with top notes of Pineapple, Banana, Orange, Passion Fruit, and Mango; followed by middle notes of Paprika, Powder, and Cotton; sitting on base notes of musks and apple woods.  Incredible, incredible, incredible!
FRESH PEACH:  Juicy fresh ripened Peach. The best Peach you will ever find!
HAWAIIAN PLUMERIA: Alluring Plumeria Blossoms mingle with just a hint of ripe Melon in this sweet floral fragrance inspired by the tropics
PINK GRAPEFRUIT: Fresh tart real Grapefruit scent that is invigorating and fresh
MANGO AND TANGERINE: tropical blend of Mango mixed with zesty Clementines and Red Raspberries blended with Sweet Vanilla
WATERLILY ORANGE: Watery floral fragrance is a harmonious blend of fresh Herbal Greens, Lotus and Water Lily. The top has light peppery twist of Bergamot, the heart is a crystalline Watery Flower and the finishing accord is a graceful Woody Amber. Despite its floral notes, it is bright and cheery.
JASMINE DREAMS: It is airy, light and finishes up with a powdery note.
CUCUMBER, BERRIES AND MELONS: Cool, refreshing Cucumbers mixed with ripe juicy Melons and Berries.